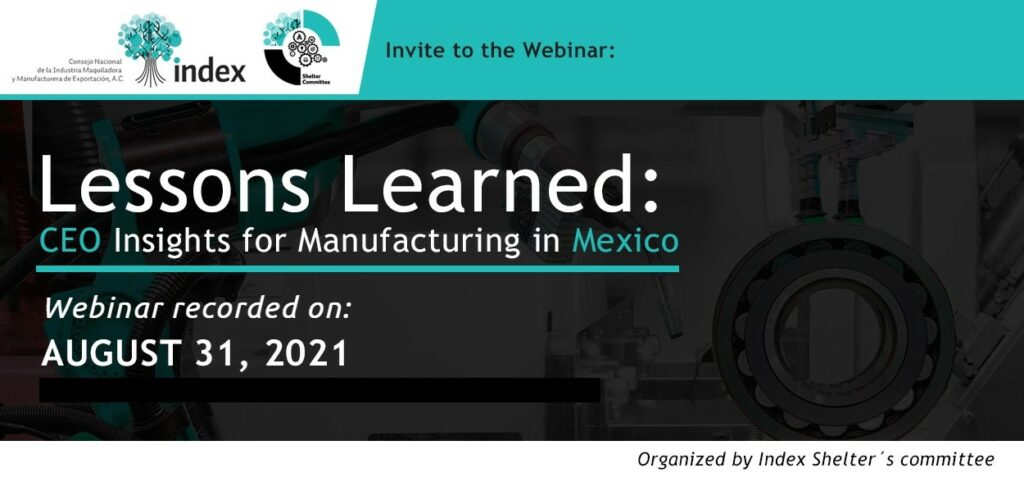 After you register, a link is sent to you automatically via email.
RECORDED WEBINAR:
"Lessons Learned: CEO Insights for Manufacturing in Mexico"
Understand the benefits of establishing a successful manufacturing operation in Mexico through the experience and lessons learned from foreign companies.
Webinar recorded on August 31, 2021
Webinar brought to you by INDEX, Consejo Nacional de la Industria Maquiladora y Manufacturera de Exportacion, A.C.
WEBINAR TOPICS:
Who we are: INDEX Association
By Mr. Joshua Robin
Shelter Model: The easiest way to do business in Mexico
By Mr. Ricardo Rascon
CEO Panel
Moderated by: Rene Espinosa
CEO Panel Participants
BUSC, ARNPRIOR, ROCK WEST, OES GLOBAL
CEO Q&A
To register and watch the recorded webinar, please visit here.
(after you register, a link is sent to you automatically via email)
---
Questions? Contact us here