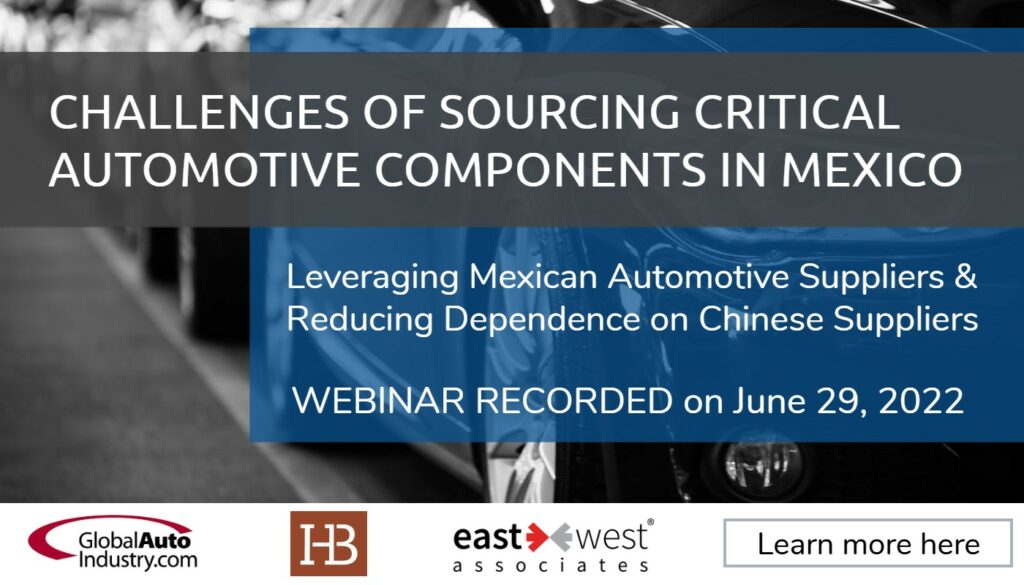 Improving your Global Automotive Supply Chain & Manufacturing Footprint
Leveraging Mexican Automotive Suppliers & Reducing Dependence on Chinese Suppliers
Recorded Webinar
Webinar held on Wednesday, June 29, 2022
After you register, you will receive an email with a URL link to access the recording.
Register for Recorded Webinar here


Because of US/China tariffs, high logistics costs from Asia, power outages in China, growing Chinese costs and other reasons, US automotive suppliers are diversifying their global supply chain and manufacturing into Mexico.
Topics covered include
East West Associates conducted a Roundtable Discussion with several senior automotive executives, and include the following topics:
Challenges of Sourcing 5 Key Industrial Components in Mexico: Aluminum extrusion | Castings & machined parts | Forgings | Metal stampings & Fabrication | Injection molded & extruded plastics
What automotive components have a solid, established supplier base in Mexico? Conversely, which products are currently more competitive in China?
What are the challenges for automotive companies establishing a supply chain network in Mexico?
What are some of the advantages of Mexico for manufacturers looking to set up operations?
And the disadvantages – what most surprises companies looking to source or set up operations in Mexico?
Are you seeing expansion of Chinese manufacturing into North America via Mexico?
What are the major changes in the Mexican automotive industry over the last 3 years? Anything that has essentially stayed the same?
The "Shelter Model" is frequently recommended for companies looking to establish operations in Mexico…advantages, disadvantages, limitations?
What are the unique aspects of the Mexican labor market?
Speakers
Moderator: Alex Bryant
Founder, President of East West Associates
Director of International Business Development for Barnhardt Manufacturing Company
Attorney, Ogletree Deakins Nash Smoak & Stewart, P.C.
Speaker: Stefan Lachner
Vice President of Production and Logistics Planning Robert Bosch GmbH in Mexico
Manager of Operations and Engineering for Leoni AG in Mexico
Business Unit Manager and Key Account Manager for Continental Teves Automotive in Mexico
Speaker: Gary Trzcianka
President, Scojet, Inc. – U.S.
U.S. – based product design, precision machining & manufacturing company
Products include castings, control cables, headlights, plastic injection molds
Questions Answered by Speakers
Can you share your comments about sourcing in Mexico? What are the benefits & challenges?
Lets look at the electronics suppliers in Mexico for the automotive industry. Can you talk about the electronics component suppliers in Mexico – their capabilities and capacities?
Will there be growth in Mexico of a greater vertical supply chain base for PCBs in the next 3-5 years?
Does the Mexican government realize the need to increase electronic supply chain and are they investing in this industry sector
Discuss the large availability of supplier capabilities and capacity for injection molding, metal stamping and fabrication?
What is the availability of steel in Mexico and imported stainless steel?
What are the challenges of sourcing automotive components in Mexico, specifically as it relates to imported raw materials like resin, steel, electronics and plastics?
What are the capabilities and capacities of the Mexican foundry business?
With a lot of Mexican suppliers have the capabilities but not the capacity, how can companies work with suppliers on improvement projects?
How to best identify & qualify Tier 2 and Tier 3 Mexican suppliers who have lower volume requirements, particularly in the automotive aftermarket?
Imported Chinese tooling & Mexican tooling
What is the availability for Mexican suppliers for interior products like headlamps?
What are the capabilities and capacities of welding and fabrication suppliers in Mexico
Discussion on the most common problems of sourcing in Mexico – capacity, development of relationships with Mexican suppliers, volumes needed and pricing
What are your Intellectual Property concerns in Mexico vs. China?
Register for Recorded Webinar here


Webinar held on Wednesday, June 29
After you register, you will receive an email with a URL link to access the recording.
Questions? Contact us here