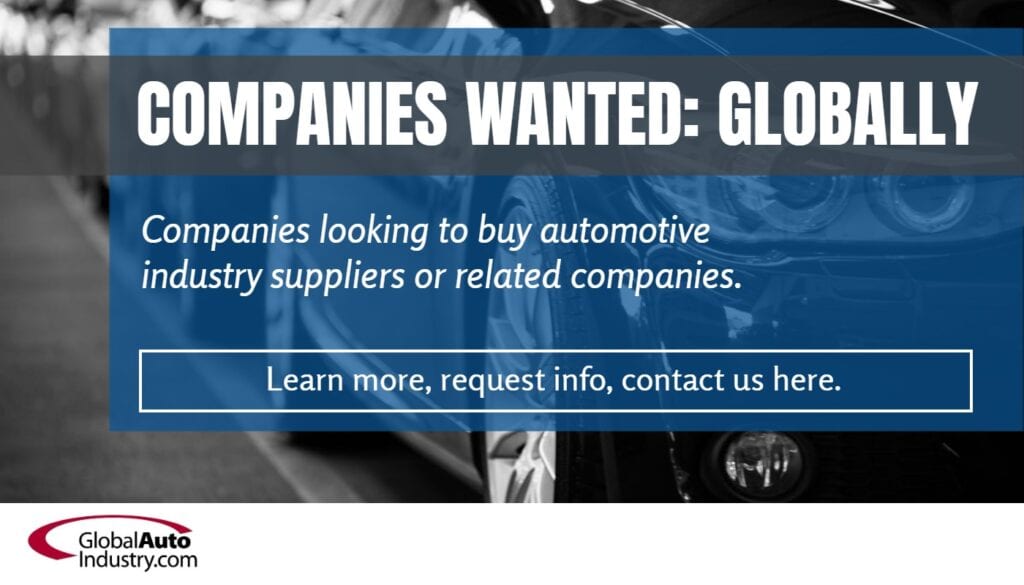 Looking to Buy: Companies wanted
CONTACT US HERE
For additional information on any of the following requests to purchase, please contact: Ron Hesse – RHesse@GlobalAutoIndustry.com
Read the latest edition of our GLOBALtalk M&A eJournal – visit here
AUTOMOTIVE COMPANY IN U.S.
Investment group client seeks to acquire a company in automotive industry. Client creates flexible deal structures for companies in the U.S. and goal is to continue to fuel stable, long-term growth while preserving the company's core values and team. Client will consider stock or asset deals and target approximately 80-100% ownership. Potential acquisition target must meet the following criteria:
U.S. Headquartered
Revenues from $5 to $75 million
EBITDA of $1 to $10 million
Favorable growth outlook
Recurring revenue
EBITDA margins of at least 10%
Low customer concentration
AUTOMOTIVE OEM SPARE PARTS MANUFACTURERS GLOBALLY – (Seeking investments or acquisitions)
A well-known Indian Automotive OEM parts producer company is looking for some Manufacturers to invest. Ticket Size is between $50 – $150 M. The amount can be invested totally to one company or partial in 2-3 different companies. Target Sectors are in the area of light-weighting, focusing on aluminum (HPDC) and plastic part suppliers. Also targeting Non-ICE. Automotive Suppliers such as Electronics (hardware and software), Battery and Electric Motor. Open to buy the majority shares & minority shares.
MACHINING OR DUCTILE IRON CASTING COMPANY IN U.S., MEXICO OR CHINA
Machining and/or ductile iron casting company located in U.S., Mexico and China. China companies will be considered if they offer 'tight tolerance manufacturing'. Solar or automotive industry experience. Target companies will have revenues of $5 -$100M, however, companies with higher revenues considered, depending on potential of company.
ENERGY STORAGE, AUTOMOTIVE & MOBILITY MANUFACTURERS IN EUROPE
A well-known Automotive OEM parts producer holding company is looking for some Manufacturers around Europe.
Preferably Equity size is up to 50 M €. | Open to buy the majority shares & minority shares with protection rights.
Target Sectors are Energy Storage (battery and battery management), Automotive and Mobility. Companies providing access to new or complementary products/technologies in new end markets and sustainable growth markets, in line with the transformation of the automotive industry. Companies serving other industries besides Automotive can also be considered, i.e. Light weighting materials.
OEM PARTS MANUFACTURER IN EASTERN EUROPE
A well-known Automotive OEM parts producer holding company is looking for a Manufacturer of Hungary/ Slovenia/Slovakia's West borderline. Global presence is a plus criterion. Customer Base should be OEM companies. Target ticket size is between 20-50 M € / year sales. Process Ability criteria are Lazer Printing, Mechatronics, IMD (In Mold Decoration), Plastic Injection. Product Line: Interior Plastics, Lighting, Interior Lighting, Bus Service Sets.
SUSPENSION & STEERING SYSTEM MANUFACTURER
A European automotive spare parts producer part of a reputable holding is looking for a Manufacturer (preferable plus distribution company) of Product Group of Suspension and Steering System. Process Abilities can contain forging (preferable), machining (preferable, limited capability is also accepted), painting and assembly processes are must as vehicle line Passenger Car, and Light Commercial Vehicle (Light Vehicle) lines are a must, (Heavy Commercial Vehicle).
ALUMINUM AUTO COMPONENTS & ASSEMBLIES SUPPLIER IN U.S. OR MEXICO
A Global Automotive Parts Manufacturer is looking for a Manufacturer of Aluminum Automotive Components and Assemblies with an EBITDA between $1 and $5 Million located in the US or Mexico.
Questions? Contact us here