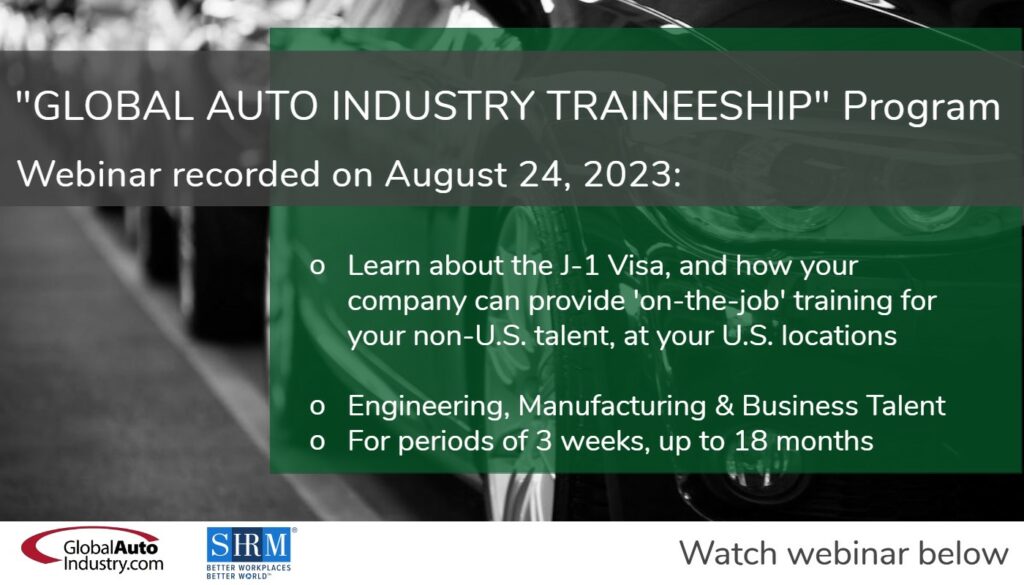 The "Global Auto Industry Traineeship Program" is a joint effort by SHRM (the Society for Human Resource Management Professionals) and GlobalAutoIndustry.com
About this Recorded Webinar:
WHAT: "Global Auto Industry Traineeship" Program
WHEN: Recorded on August 24, 2023
COST: Free to access Recorded Webinar (however, you must register)
Register to Access Recorded Webinar &
Download Traineeship Brochure:
Download Traineeship Brochure here:
To participate in the Traineeship Program, please note:
This Program helps Companies develop their non-U.S. based talent, by providing on-the-job training in the U.S. (at your company's locations) for Participants.
To participate, this Traineeship Program must be initiated by the Company and/or an authorized representative of the Company.
Company must have U.S. operations, where Participants will participate in on-the-job training.
Eligible talent includes: engineering, manufacturing, business, logistics, finance, supply chain, and other professional categories (for both 'trainees' and 'interns').
Recorded Webinar Presenters
Introduction = Ron Hesse, CEO at GlobalAutoIndustry.com
Presentation = Gennady Babankov, Manager, Exchange Visitor Programs at SHRM
Q&A = Gennady Babankov and Ron Hesse
Recorded Webinar Answers these Questions and more
What skills and jobs are eligible?
What does a typical Training Plan look like?
Regarding the J-1 Visa application process, what is involved and how long does it take for approval?
What kind of support can I expect from SHRM and GlobalAutoIndustry.com?
Does the Participant need to speak English?
What about medical, health and travel insurance coverage?
Can the Company train the candidate at the Company's various locations in the U.S.?
How much do I pay the trainee (or intern)?
What expenses are the Company expected to cover?
What about housing and transportation for the Participant?
Can a family members join for duration of training program?
Can a spouse or partner work?
And other audience questions during the 'live' Q&A session at end of Webinar!
Thought Leadership Interview with Gennady Babankov, SHRM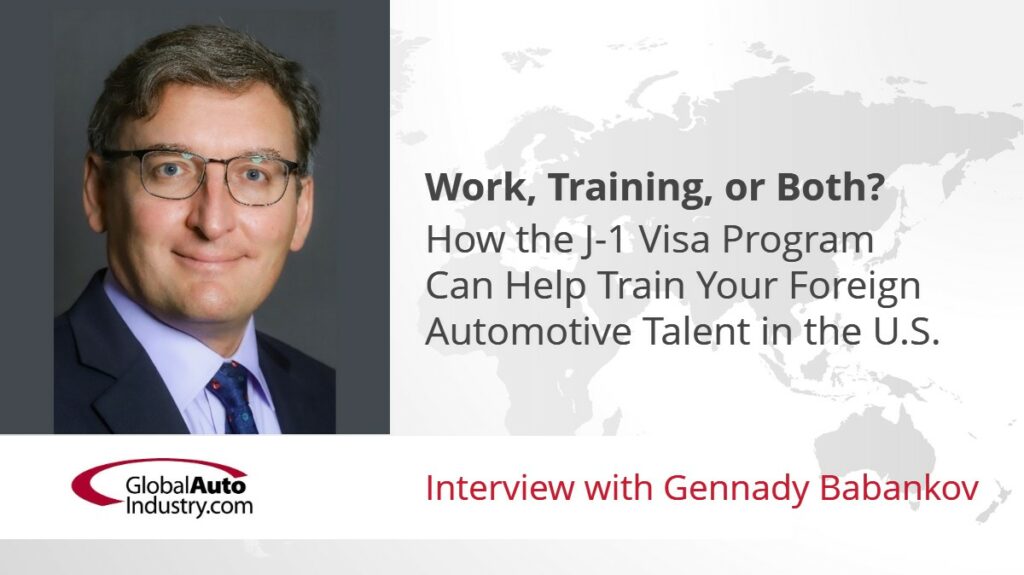 Questions? Contact us here