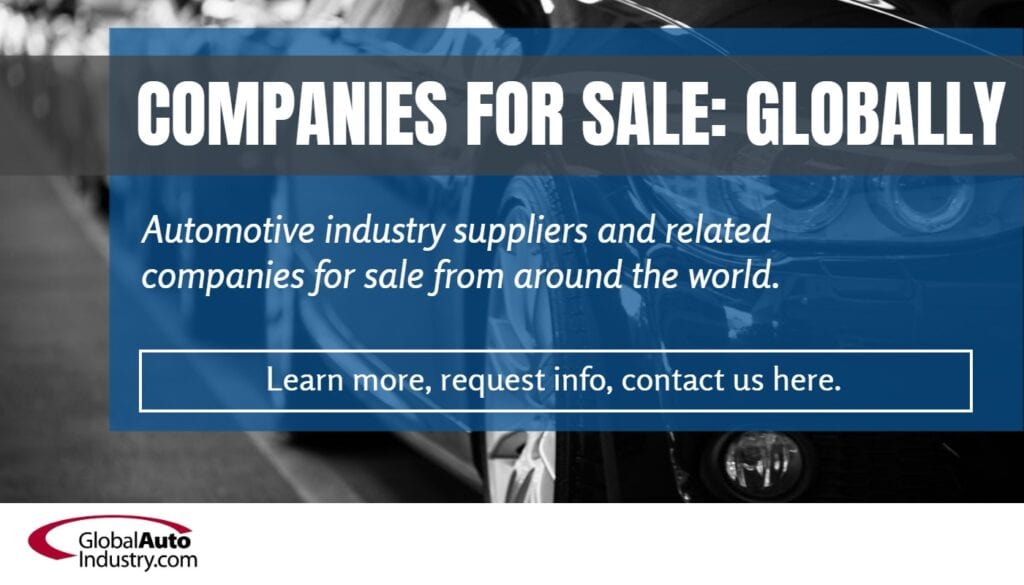 These companies are for sale
CONTACT US HERE
For additional information on any of the companies listed below, please contact Ron Hesse (RHesse@GlobalAutoIndustry.com)
Read the latest edition of our GLOBALtalk M&A eJournal – visit here.
Companies for sale listed on this page include:
USA: Automotive and Aftermarket Manufacturer – Please note: "Signed LOI under exclusivity"
VIETNAM: Plastics Application and Manufacturing Company
ASIA: Automotive and Components Supplier
ASIA: Industrial Equipment, Chemical, Beverage, Agricultural Equipment Distributor
VIETNAM: Largest Truck Logistics Company
INDIA: Automotive Supplier
USA: Automated Production Material Handling Systems Manufacturer
INDIA: Machining Supplier
USA: Machine Shop (1)
USA: Machine Shop (2)
USA: AUTOMOTIVE AND AFTERMARKET MANUFACTURER
PLEASE NOTE: "Signed LOI under exclusivity"
Over many decades providing products and solutions to the automotive and heavy-duty equipment industries, this Company has developed a loyal customer base and impressive market share. It manufactures and sells hundreds of high-quality American-made undercar parts to original equipment and aftermarket companies online and through a wide network of distributors across North America, including major retail chains. The Company's extensive research, design technology and testing has won it broad-based brand recognition. Nearly all its products are designed and manufactured in-house, and the owners have invested to update equipment, allowing the Company to set and maintain the highest quality standards. FY 2022 Net Sales Estimate- $8,000,000
VIETNAM: PLASTICS APPLICATION AND MANUFACTURING COMPANY
The company is one of the pioneers in Master batch and compound production in Vietnam, and continuously been upgrading the know-how & technology to supply their customers with the best quality and competitive master batch and Compounds. Approximately $21m Revenue and $3.6m EBITDA.
ASIA: AUTOMOTIVE AND COMPONENTS SUPPLIER
High quality wheel producer and tyre wholesaler. Approximately $ 47m Revenue, and $ 355k EBITDA.
ASIA: INDUSTRIAL EQUIPMENT, CHEMICAL, BEVERAGE, AGRICULTURAL EQUIPMENT DISTRIBUTOR
The business has distribution agreements across 5 sectors (average business mix): Automotive (40%) | Industrial Equipment (25%) | Chemical (19%) | Beverage (12%) | Agricultural Equipment (4%). Approximately USD$83.6m Revenue, and USD$14.1m EBITDA.
VIETNAM: LARGEST TRUCK LOGISTICS COMPANY
Top 3 Logistic Company (Via Truck) in Vietnam. Available for Sale: 100% Equity for USD 23 Million. Rev: USD 9.66 Million p.a. | PBT: USD 37.67 K p.a | EBITDA: USD 175.15 K p.a.
INDIA AUTOMOTIVE SUPPLIER
India-based automotive supplier (one of the largest manufacturers of sheet metal components in India) is seeking to be acquired. Revenues $42 million, and EBITDA of (-$1.4 million).

U.S. AUTOMATED PRODUCTION MATERIAL HANDLING SYSTEMS MANUFACTURER
30+ year old US-based material handling automation equipment systems integrator would like to sell to a buyer who can utilize their capabilities to generate $50,000,000 in revenue. Currently the company is operating at $30,000,000 in revenue. The companies has a talented team of engineers, designer, and component manufacturers. The company offers standard products and can produce custom components to meet any material handling challenge in a manufacturing environment.
INDIA MACHINING SUPPLIER
Well-established, India-based manufacturing supplier of machinery for global automotive and other industries. Company holds patents for 11 basic and 23 derivative models of CNC Machines, and has partnerships/JVs with Italian and Czech Republic based firms.
U.S. MACHINE SHOP (1) – Michigan-based
Michigan-based small, full-service, high-quality machine shop that builds a diverse range of precision machined parts. With expertise in CNC milling and lathing, the Company primarily works in the machine building, railroad, and industrial equipment industries, supplying OEM and secondary suppliers. Established in 1965, the Company has a history of years of consistent profitability, and positive cash flow as the owners built the business through an emphasis on quality work and close customer support. The Company also has a small welding department and supplies fabricated assemblies as well. This Company is ready to resume its growth under a new owner who provides machining leadership expertise and brings capital to invest in expanded production capabilities. The business was purchased from the company's founder in 2002, and the current owner would like to retire. 3-yr Average Revenue is $ 1,400,000.
U.S. MACHINE SHOP (2) – Ohio-based
U.S. Ohio-based, Tier 2 Automotive Machine Shop with annual revenues of $3,000,000 and EBITDA of $800,000, serving automotive and oil/gas industry customers. Company has 40,000 sq. foot facility (with room to expand), and produces CNC machined parts. Company capabilities include CNC Turning, CNC Milling, CMM, and PPAP. Company equipment includes medium to large CNC Turning (Doosan). Horizontal Machining Centers (Makino), Vertical Machining Centers Small to Large (Haas/Doosan). PLEASE NOTE: Buyer to pay 'buy-side referral fees'. Ask for details.
Questions? Contact us here