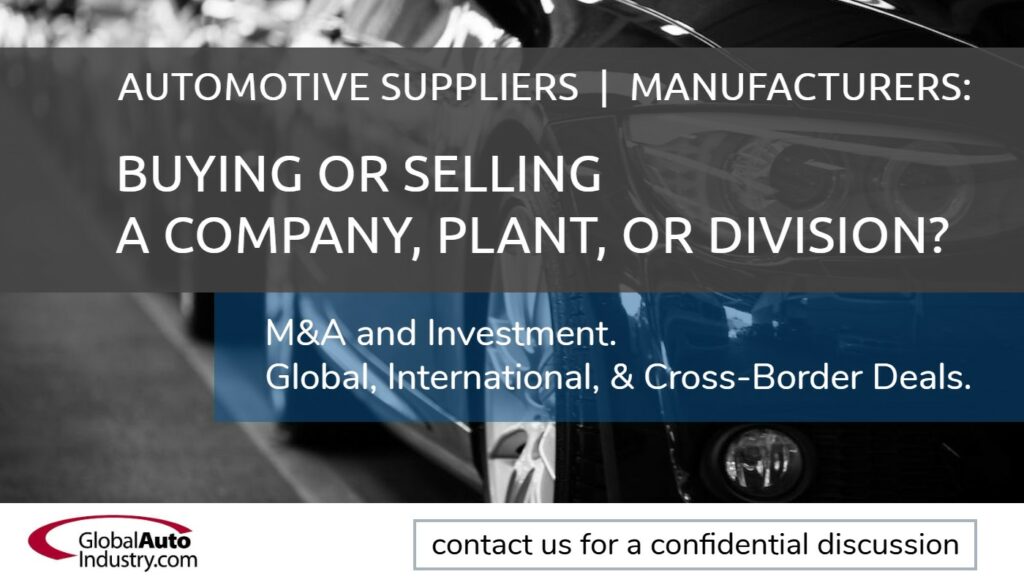 GlobalAutoIndustry.com is the leading global business intelligence source for the automotive industry, and helps automotive OEMs, suppliers and related companies succeed in international markets. Through our popular, weekly Audio Interviews and eJournals, we now reach over 1,000,000 automotive industry professionals worldwide, including over 35,000 OEMs and suppliers.
Resources on this page
---
Thought Leadership
---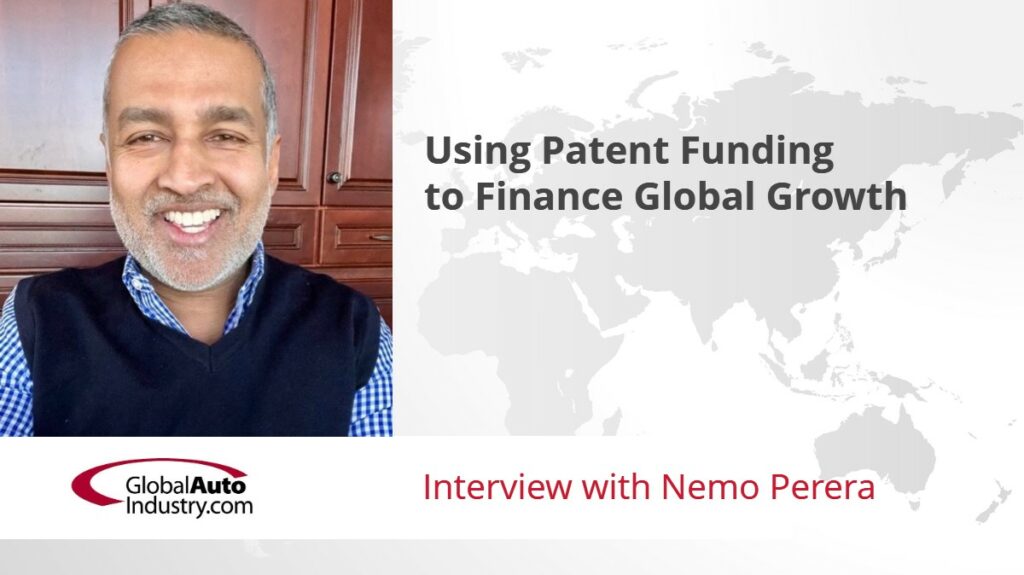 "Using Patent Funding to Finance Global Growth" features Nemo Perera, CEO and Managing Partner of Risk Capital Partners LLC. Mr. Perera is a serial entrepreneur with more than 23 years of experience in the specialty insurance industry. In addition to structuring unique risk finance structures, he has developed proprietary securitization models that help clients secure funding through rated debt structures. Listen here.
---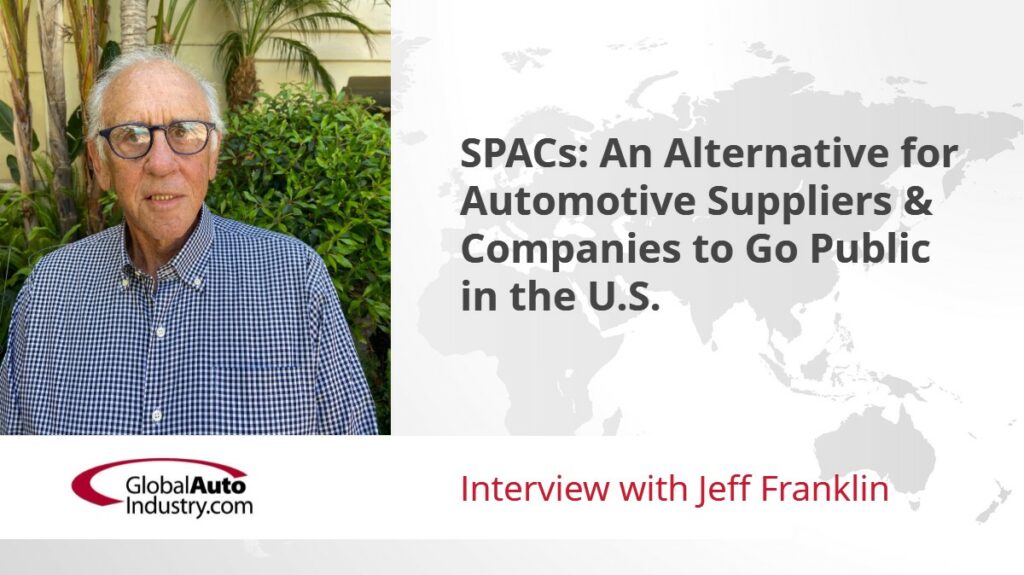 "SPACs: An Alternative for Auto Suppliers and Companies to Go Public in the U.S." features Jeff Franklin, Chairman and CEO of ATI. His current consulting practice focuses, not only, on advising funds and companies on financial transactions in the entertainment business, but also, acquisitions and restructuring of entertainment assets. In addition, he advises companies on going public through U.S.-based SPACs. Listen here.
---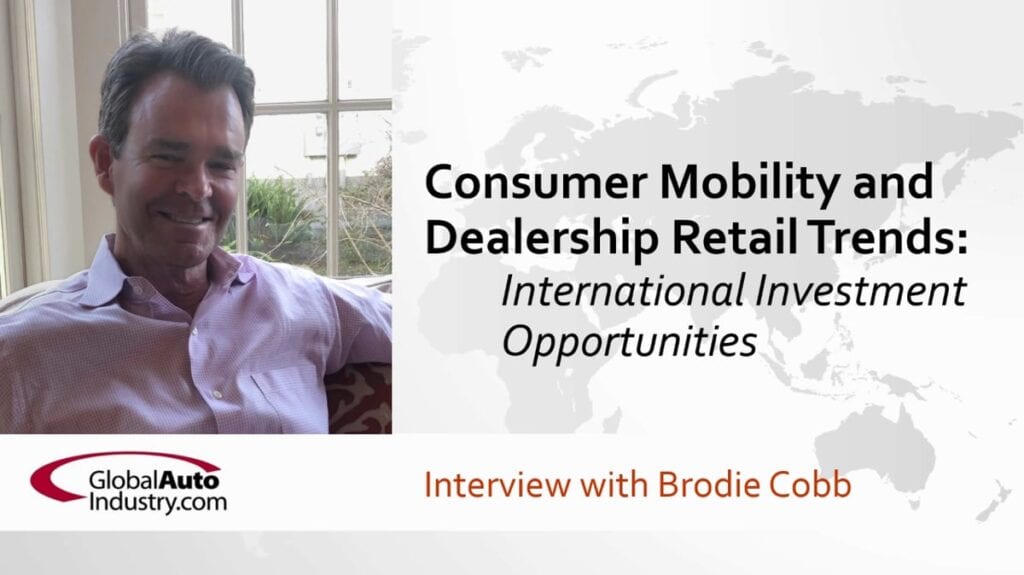 "Consumer Mobility and Dealership Retail Trends: International Investment Opportunities" with Brodie Cobb, Founder and CEO of San Francisco-based The Presidio Group, a private investment bank engaged primarily in mergers and acquisition and fund raising for automotive dealerships and auto retail services firms. The Presidio Group has collectively done 190 transactions worth more than $10 billion. Listen here.
---
Companies For Sale
To view list, visit here.
Looking to Buy
To view list, visit here.
Financing | Funding
To view investment, financing, funding and SPAC opportunities, visit here.
Seeking an M&A Broker or Advisory Firm?
Seeking "Broker" or "Advisory Firm"? We work with a select number of leading investment bankers, M&A advisory firms from around the world. These firms are able to assist you with 'buy' and 'sell' services, due diligence, capital markets, international or cross-border services, research, financing and more. Contact us and we can connect you to the right M&A service partners.
Contact: Ron Hesse – RHesse@GlobalAutoIndustry.com
Want to Promote Your Deal?
Are you an (1) automotive supplier, or (2) M&A broker | Advisory Firm?

(1) If you choose not to work with an investment banker or M&A broker, we can still assist you with our M&A Deal Promotion Package. We can promote your 'for sale' or 'seeking to buy' request to our global audience of over One Million automotive industry professionals worldwide. Contact us for more information or a specific proposal.

(2) If you are a broker and want to promote your automotive and manufacturing-related deals, please contact us for more information.
Contact: Ron Hesse – RHesse@GlobalAutoIndustry.com
Questions? Contact us here
No Fields Found.