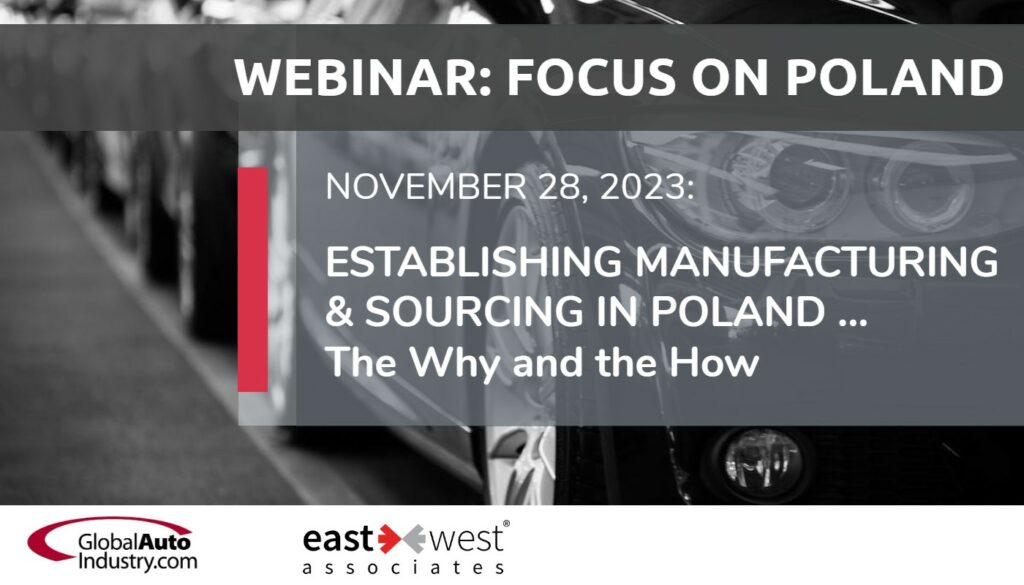 Webinar
Tuesday, November 28, 2023 | 11:00am ET | 17.00 hrs. Brussels | 21.30 hrs. India
Please register here for the 'live' webinar on November 28, and/or the Recorded Webinar
Who should watch?
Executives of U.S., Asian, and Latin American companies:
Expanding Supply Chain & Manufacturing to better service European customer base
Facing manufacturing, contract manufacturing or sourcing challenges in China
US companies are establishing or relocating to Poland for a number of reasons, not the least is diversification from China. Poland has become a preferred destination as China labor costs and geopolitical concerns increase, and as US/China tariffs remain.
Poland is the fifth largest manufacturing country within the EU and contributes 22.4% of the country's GDP. Germany is the largest importer of Polish products, followed by the rest of Westen Europe.
The leading Polish industrial sectors are automotive, aviation, pharmaceuticals, household appliances, metal products, electrical equipment, electronics, chemical products, and rubber & plastic. As a result, Poland has a large supply chain base of raw materials and component products servicing these manufacturing operations.
East West Associates' Speakers will address these questions
Why are companies diversifying from China and leveraging Poland's Supply Chain & Manufacturing capabilities?
How are U.S. companies developing sourcing, contract manufacturing & manufacturing capabilities in Poland?
What industry sectors are finding sourcing & manufacturing success in Poland?
How to identify & qualify Polish suppliers?
How to conduct Site Selection in Poland to establish Polish manufacturing site?
What financial & operational incentives does the Polish government provide to US companies to establish operations on leased or owned facilities?
How should our investment strategy be designed to best meet the Polish Investment goals?
Can you summarize the Polish/U.S. trade relations and tariff policies?
What is the availability & quality of local labor (production & engineering talent)?
Please register here for the 'live' webinar on November 28, and/or the Recorded Webinar
Our Speakers will briefly present two recent case studies
EWA & a PA-based manufacturing client identifying and qualifying Polish suppliers
EWA & a MN-based manufacturing client relocating their European operations from Spain to Poland
Establishing Manufacturing & Sourcing in Poland
Speakers
Mike Jacobs | Chief Operating Officer, Weber, Inc.
Responsible for end to end product life cycle, including product management, research & development and end-to-end supply chain and operations functions (Strategic Sourcing, Demand & Supply Planning (ES&OP), Global Manufacturing, Logistics & Distribution and Quality)
Former Vice President, Logistics & Material for Rockwell Automation (NYSE: ROK)
Director, Global Sourcing – Fabricated Components for Schneider Electric
Dariusz Pielach | Director, Central Eastern Europe
EWA Director of Poland/Central Eastern Europe
Resides in Warsaw, Poland
Former Project Manager/Director and Interim Manager for Western multinationals
Primary focus in strategic and operational procurement, sourcing, and project management
Mark Plum | Director, East West Associates
Former President of Briggs & Stratton Asia (NYSE: BGG)
VP Sales & Marketing, American Standard Thailand & American Standard China
Questions? Contact us here