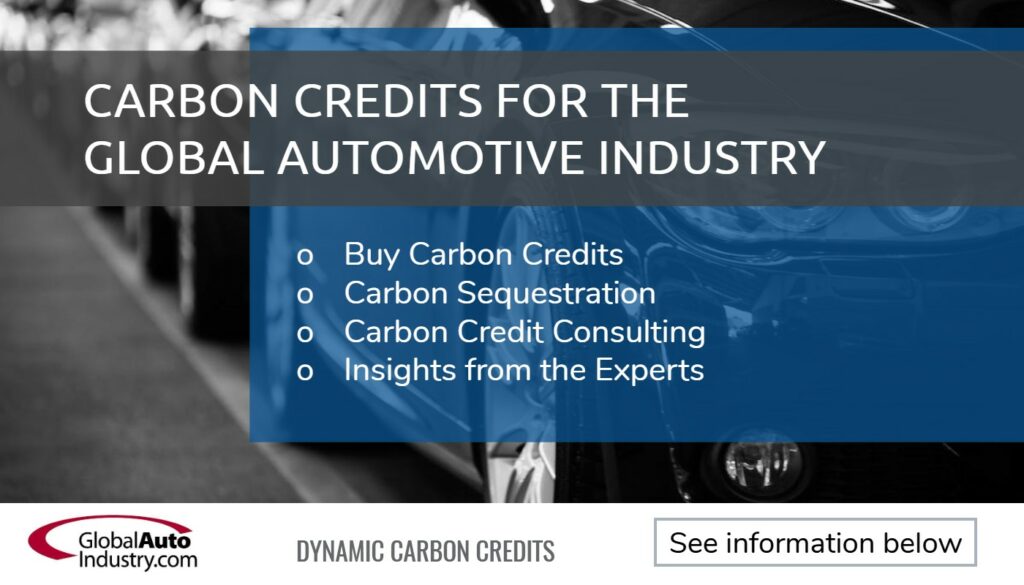 GlobalAutoIndustry.com has teamed up with Dynamic Carbon Credits to offer automotive companies (OEMs, Suppliers, and related companies) access to the industry's unique and leading carbon credits.
About Carbon Credits – Information on this page
Trending "Insights" from the Experts, access here
Dynamic Carbon Credits – Overview ("A Now Solution to Decarbonization"), download here
About Dynamic Carbon Credits – see below
Services by Dynamic Carbon Credits – see below
Carbon credits for the International Automotive Industry – see below
Audio Interview with Dynamic Carbon Credits CEO:
"Carbon Credits in the Automotive Industry: A U.S. Perspective for Global Operations"
To listen to Interview, visit here.
In Review … – see below
Contact Us – Info Request Form – see below
Trending "Insights" from the Experts
Proprietary data, expert analysis and strategic thinking for leading professionals who want to achieve excellence for their company & the environment.
ACCESS the following Expert Articles (to access Articles immediately, register below)
Automotive Industry: Start Your Engines with Carbon Credits
Innovation & Inclusive Growth: Mines
A Green Investment: Why Companies Should Embrace Plant-Based Carbon Credits in 2023
Review 2023: Reason Industries Turn Toward Carbon Credits
Introduction to Carbon Markets in 2023
Unveiling the Limitations: Why Forest Projects Fall Short of Permanent Carbon Sequestration
Carbon Credit 101: Introduction
Carbon Removal in Bipartisan Infrastructure Law & Inflation Reduction Act
What is the 45Q Federal Tax Incentive?


About Dynamic Carbon Credits
Dynamic Carbon Credits is the leading company in providing effective and reliable solutions for reducing carbon emissions and tackling the global issue of climate change. The Company works with Fortune 500, large and medium businesses. The Company's commitment to environmental sustainability and social responsibility has made them the preferred choice for businesses seeking to reduce their carbon footprint and contribute to a better future for our planet.
A plethora of ventures and projects eventually led to the birth of Dynamic Carbon Credits. The Company's team of experts has years of experience in the field of carbon credits and emission reductions, and they are dedicated to helping their clients achieve their sustainability goals. The Company provides comprehensive services including carbon footprint assessments, carbon offsetting, and the trading of carbon credits. The parent company was originally founded in 2019, after discovering a need for a verified buying solution in this industry, Dynamic Carbon Credits was developed. Dynamic Carbon Credits is highly skilled and an industry leader in this space.
Services by Dynamic Carbon Credits
Buy Carbon Credits
Delivering a triple play of results: validated, permanent, and local – to learn more, please contact us below
Carbon Sequestration
Become effective, more local and intensely eco-friendly – to learn more, please contact us below
Carbon Credit Consulting
Master carbon industry and become a leader in this space – to learn more, please contact us below
For detailed information on Dynamic's Services, please see below (continued)
Carbon credits for the International Automotive Industry
The Full Story
Dynamic Carbon Credit helps top management in the automotive industry make groundbreaking and effective decisions that not only generate profit, but also contribute to the fight against climate change through the use of carbon credits. The Company's expertise in integrations can help reduce the carbon footprint of automotive operations and facilitate the earning of carbon credits, which can then be sold on the carbon market.
By implementing environmentally sustainable practices and technologies, the Company's clients can decrease their carbon emissions and earn carbon credits as a result. These credits can be used to offset emissions elsewhere or sold to other companies who are looking to offset their own emissions.
Our approach can help automotive companies navigate the increasingly stringent industry standards for carbon emissions, and achieve both economic and environmental benefits. The Company's solutions can include improving supply chain sustainability, optimizing manufacturing processes to reduce emissions, and developing cleaner and more efficient vehicles.
Partnering with Dynamic means taking a step towards a more sustainable and profitable future, by leveraging carbon credits and reducing the environmental impact of automotive operations.
Audio Interview with Dynamic Carbon Credits CEO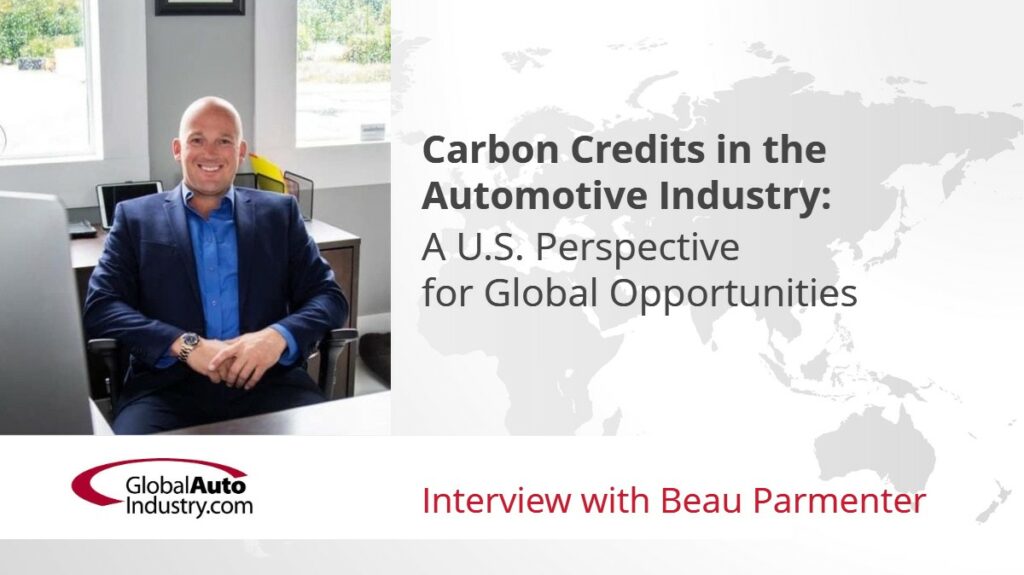 Services by Dynamic Carbon Credits: continued…
BUY CARBON CREDITS:
When it comes to buying carbon credits, Dynamic Carbon Credits stands out as a trusted and reliable partner. Here's why you should choose them for your carbon credit needs.
Expertise and Experience: With their in-depth knowledge of the carbon market and years of experience, they provide expert guidance tailored to your specific requirements. Their team of carbon credit consultants ensures that you make informed decisions that align with your sustainability goals.
High-Quality Offset Projects: Their carbon credits meet stringent standards and deliver measurable environmental benefits. By purchasing carbon credits from them, you can be confident in the credibility and impact of your offset investments.
Plant-Based Carbon Credits: Developed a three-step propriety process that is all natural and chemical free to dramatically enhance the amount of carbon sequestered through their plant-based solution.
Transparent and Ethical Approach: Transparency and integrity are at the core of their operations. They maintain clear communication, provide detailed information about the projects, and ensure compliance with industry regulations.
Positive Environmental and Social Impact: By buying carbon credits from them, you actively support sustainable development initiatives, help combat climate change, and promote social and economic well-being in local communities.
Make a meaningful impact on the environment and demonstrate your commitment to sustainability by purchasing carbon credits from Dynamic Carbon Credits. Partner with them to drive positive change and contribute to a greener future.
CARBON SEQUESTRATION:
The Company blends their experience with technical manufacturing and carbon sequestering capabilities to kick business transformations for various companies into gear – keep the momentum going. Their strategy focuses on end-to-end transformations and ways of scale. They will help you create a culture that embraces innovation, change, continual learning and improvement related to their plant-based solution.
Organizations that wish to adapt a plant-based solution into their business and be future-ready must be educated, and plugged into the supply chain, but many businesses struggle because the correct pieces are not in place to scale this type of operation or produce a plant-based product.
Why is it important to implement a plant-based solution into your business?
Not only can their solution be used for an astonishing number of products, but its net environmental benefits are also impressive. Among the more salient features, their plants grow in a variety of climates and soil types, is naturally resistant to most pests, and grows very tightly spaced allowing it to outcompete most weeds. The US is transitioning to a future that embraces more sustainable agriculture practices.
Their solution is already promoting positive ecological and economic benefits. For example, their renewable, fast-growing plants are a substitute for many unsustainable products like non-organic cotton (which currently uses more than 25% of the world's insecticides and more than 10% of the world's pesticides) and many plastic products. Consumers sustainability trends are on the rise, so allows them to help your business realize value in this market and execute with ease.
CARBON CREDIT CONSULTING:
At Dynamic Carbon Credits, their carbon credit consulting services are designed to assist organizations in effectively navigating the carbon market and maximizing their environmental and financial outcomes. Their expert consultants provide tailored guidance on carbon reduction strategies, carbon offset opportunities, and carbon credit portfolio management.
They begin by conducting a comprehensive analysis of an organization's carbon footprint, identifying areas for emissions reduction and recommending sustainable practices. Their consultants work closely with clients to develop customized carbon reduction strategies that align with their business goals and objectives.
Furthermore, they offer in-depth knowledge and expertise in carbon offset projects. They help businesses identify reputable offset projects that align with their values and provide quantifiable environmental benefits. Their consultants assess project credibility, analyze potential risks, and guide clients in selecting high-quality offsets.
In addition, the Company assists businesses in effectively managing their carbon credit portfolios. They stay up-to-date with the evolving carbon market landscape, regulations, and standards, allowing them to provide informed recommendations on carbon credit procurement, tracking, and trading.
Through their carbon credit consulting services, organizations can make informed decisions, reduce their carbon footprint, and contribute to global sustainability efforts while unlocking the financial value of carbon credits. The Company is committed to supporting businesses in their journey towards a greener future.
In Review…
Dynamic Carbon Credits is changing the way the world thinks about plant-based products.
At Dynamic Carbon Credits, they don't believe in recycled thinking, or doing things the way everyone else is. They know that plant based products live outside of its stereotype. They aren't afraid of the hard work it takes to see projects through to completion — in fact, that's what drives them.
When you work with Dynamic Carbon Credits, you aren't just working with consultants, you're teaming up with visionary strategists that are experts in reducing your carbon footprint which contributes to a better future for our plant.
Questions? Contact us here