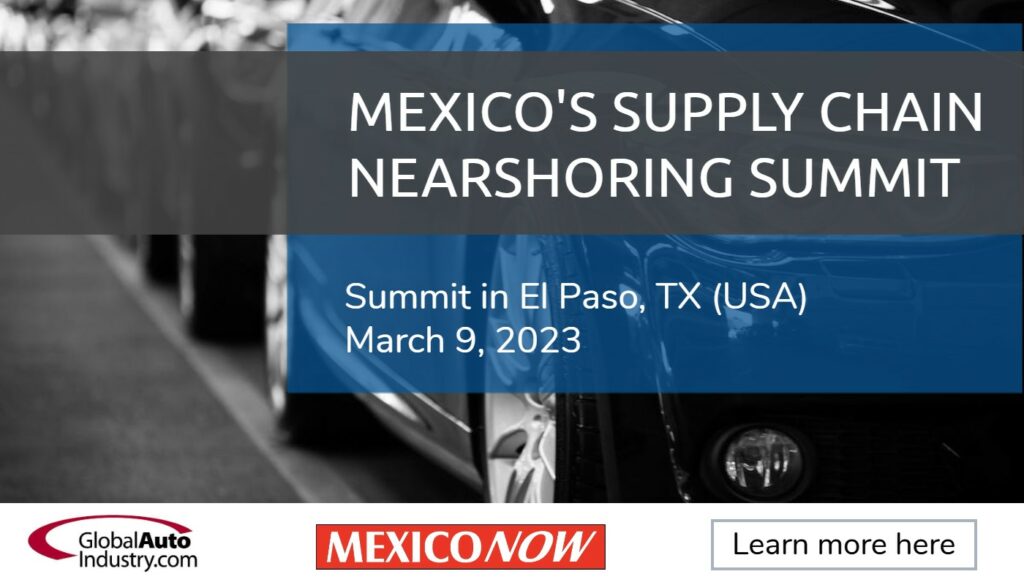 Mexico's Supply Chain Nearshoring Summit
March 9, 2023
El Paso, TX (El Paso Convention Center)
Please see registration guidelines for manufacturers and service companies below.


ABOUT THIS SUMMIT
Mexico's Supply Chain Nearshoring Summit 2023 at El Paso, Texas, is a unique opportunity for leading OEMs in Mexico and potential suppliers to meet and identify new business partners. At the same time, through conference sessions and case studies, participants will learn the latest developments in manufacturing and supply chain dynamics in Mexico.
B2B MEETINGS
Our B2B Meetings offer the possibility of identifying potential business opportunities to suit the participants interests and business needs by requesting meetings with representatives from most of the companies in the event. These pre-arranged informal/introductory meetings will be organized in 20-minute intervals according to each company's availability.
Attendees will be able to define the format of their B2B Meetings (only in-person) according to their participation preference.
Every company participating at the Mexico's Manufacturing Supply Chain Summit 2023 will be able to manage all of the B2B Meetings stages through their administration panel.
CONFERENCES AND PANELS
Industry experts and manufacturers with facilities in Mexico will present and discuss throughout the event to help newcomers and experienced executives shape their business, trade and manufacturing strategies in Mexico.
You will hear from industry leaders about the fascinating growth and the opportunities to participate in the booming automotive, aerospace and electronics industries value chains in Mexico.
You will gain deeper knowledge about OEMs supply chain plans in Mexico, logistics, manufacturing cost reduction options, intellectual property protection and labor and fiscal trends affecting foreign firms in Mexico.
REGISTRATION
ARE YOU A MANUFACTURING COMPANY?
OEM and Manufacturing Suppliers (Includes access to conference sessions, exhibition floor and B2B Meetings*).
Get your Free Full Access passes. PLEASE NOTE, you MUST register with a COMPANY EMAIL ADDRESS:


SPONSORSHIP OPPORTUNITIES
IF YOU ARE NOT A MANUFACTURER, unfortunately you do not qualify for the VIP complimentary access. HOWEVER, Service Supply companies and professional services firms are welcome to apply for the SUMMIT's sponsorship plan.
If you are NOT an OEM or manufacturing Supplier, please register here and a MexicoNow representative will contact you.
SPEAKERS
The following executives are confirmed to participate in this Summit Program.
Visit here.
PARTICIPATE IN B2B MEETINGS PROGRAM
Participate in our B2B Meetings.
Visit here.
B2B PARTICIPANTS
The following companies are already registered to participate in this Summit.
Visit here.
FLOOR PLAN
Exhibitors, sponsors, costs.
Visit here.
EXHIBITOR MANUAL
HOTELS
Visit here.
Questions? Contact us here