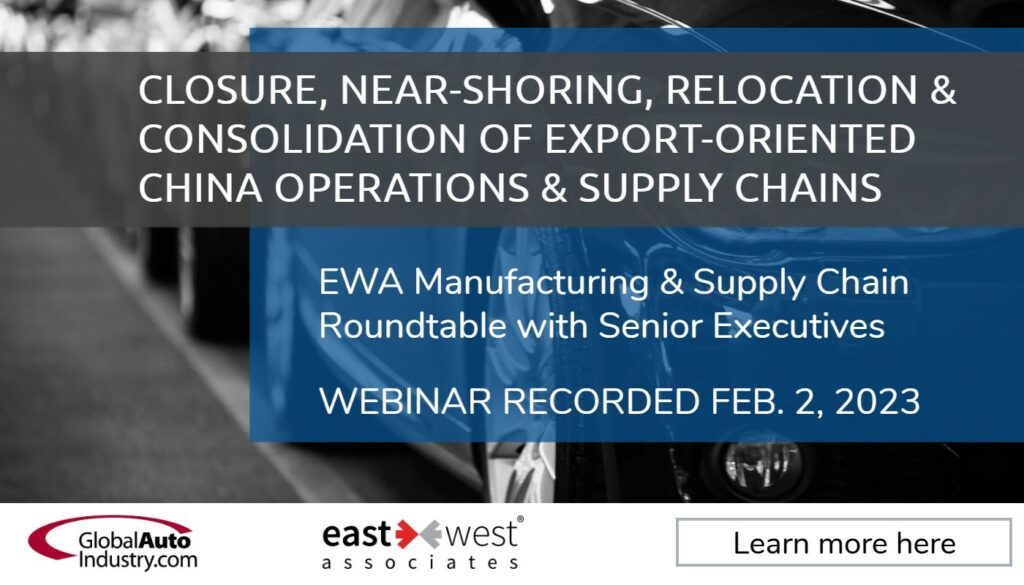 RECORDED WEBINAR:
EWA Manufacturing & Supply Chain Roundtable with Senior Executives
Held on February 2, 2023
PLEASE READ: Only automotive OEMs and manufacturing suppliers who register using a business email address will be invited to access this recorded webinar.
Many C-level executives are streamlining their China-based manufacturing operations or moving operations out of China
WHY?
Because assessments of the viability of exporting out of China have exposed a number of negative factors:
Long lead-time to US & European customers
Increasing production costs
Challenging regulatory environment in China
Continuing issues with Covid infections within China
Tariffs & geopolitical tensions between China and the US
Closing, consolidating or relocating China operations stresses a company's ability to serve its customers, and its global strategy, supplier relationships, and brand reputation in China and around the world.
But if carried out with expert insight, thorough planning, and a strong project team, taking the proper actions will have a positive, long-term impact on global operations and financial results.
Speakers
The webinar will feature seasoned speakers with real-life experience in China plant closures, improvements, consolidations, relocations and sourcing within China and in other countries.
Warren Wisnewski
Former Vice President of Operations, Asia Pacific Region, Eastman Kodak Company (NYSE: KODK).
Dan McLeod
Former Director Asia Pacific Operations for Ashland Specialty Ingredients
During the first half of this webinar, the speakers will discuss real-life decisions they made with their own facilities and their results.
The second half will be devoted to answering attendees' questions.
For example:
What is the method, challenges, and roadblocks for closing a China facility, without "burning our bridges" there?
What about just downsizing in China or combining two factories into one?
Can a manufacturer protect IP when relocating out of China? Can we move our manufacturing equipment out?
What are key factors in determining which country to select for relocating out of China?
Future Webinars
This is the first in the EWA 2023 Webinar Series on challenges facing China-based operations and global supply chains. Future 2023 webinars will discuss:
Rethinking your overall business "In China, for China" to keep ahead of your domestic competition in terms of markets and operations
Assessing, optimizing, restructuring within China
Assessing your China operations after three years of hands-off management. How to identify and address any negative drift in company culture and organization; operations performance decline; overall risk management
Questions? Contact us here