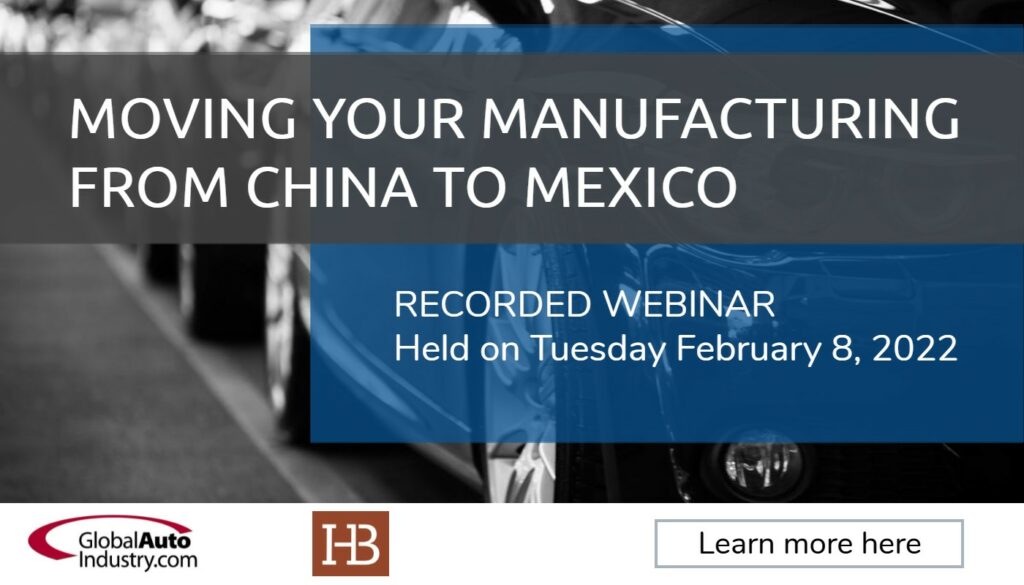 About this recorded webinar
FREE ACCESS TO RECORDED WEBINAR
HELD ON TUESDAY FEBRUARY 8, 2022
To access recorded webinar, please register below.
Access link will be sent via email immediately after you have registered.
(Updated 06/03/2022)


Are you contemplating moving your manufacturing to Mexico from China? If you are, sign up to access the free recorded webinar on exactly that.
Companies that have their products made in China are increasingly seeking to diversify their supply chains away from China and its COVID/Omicron factory shutdowns, rising energy costs and shortages, rising wages, sky-high shipping costs, and "Trump tariffs" — all of which are likely to continue indefinitely.
Not surprisingly all this is making Mexico increasingly important as a manufacturing hub, especially for products that will be sold in the United States or Canada. Moving your manufacturing to Mexico will give you proximity to U.S. and Canadian markets, modern infrastructure, access to ports for global distribution, and a highly skilled, well-educated and reasonably-priced workforce.
Please register to access the FREE, recorded webinar on Moving Your Manufacturing from China to Mexico, co-hosted by Harris Bricken and GlobalAutoIndustry.com. This FREE webinar is led by Harris Bricken attorneys Dan Harris and Adrián Cisneros Aguilar, and Mexico manufacturing expert Alejandra Maldonado. This event is moderated by Ron Hesse, Chairman & CEO of GlobalAutoIndustry.com.
Dan heads up Harris Bricken's China manufacturing practice and Adrian heads up Harris Bricken's Mexico manufacturing practice. Alejandra is a project administrator at INTERMEX, one of Mexico's leading industrial park, shelter manufacturing, industrial site selection, and logistics companies.
This Recorded Webinar covers the following topics:
The webinar focuses on the practical aspects of moving your manufacturing to Mexico from China, the various ways to start with Mexican manufacturing and how to successfully manufacture there. It will cover the following topics:
Why to leave or stay in China.
How to leave China safely.
Mexico's views on China and why this matters.
Whether Mexico should be seen as the new China.
What Mexico and China mean for manufacturers, with a particular focus on the similarities and differences between China and Mexico.
Mexico's various manufacturing options.
Shelter manufacturing vs. contract manufacturing vs. greenfield manufacturing.
How to move your manufacturing in Mexico, with a focus on locations, business structures, and employment, IP, and tax issues.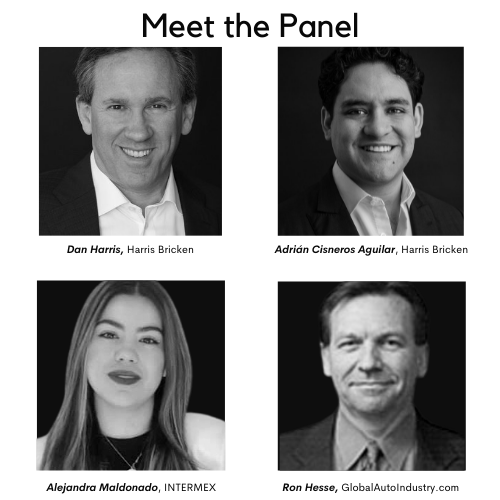 About China Law Blog
We focus on the practical aspects of Chinese law and how it impacts foreign companies that do business in or with China. Our goal is to help you understand what works and what does not work and what you as a businessperson can do to use the law to your advantage. Our aim is to assist businesses already in China or planning to go into China, not to break new ground in legal theory or policy.
Questions? Contact us here