Today's vehicles, be it a transport truck or car or earth-moving machines, are made up of thousands of components, that have to be manufactured to the right tolerances and specifications across a wide range of carefully selected suppliers.
These Suppliers are vetted, evaluated and selected for their ability to manufacture to the specific needs and their ability to supply to the various demanding locations at the right time, quality, quantity and cost.
However, when this cycle of supply and demand is disrupted by sudden spikes, dips, shutdowns and restrictions as it happened due to Covid, the ripple effect seriously challenges the entire downstream supply chain. Enterprises have spent a significant amount of human and physical resources in making their supply chains digital and efficient but still struggle to get real time visibility and useful data to help make meaningful business decisions.
Tada offers users supply chain software tools that will help plan, predict and collaborate with your suppliers to meet ever changing demand and supply fluctuations while integrating with all of your current technology stack. unplanned buffers, expedited shipments, and alternative sourcing at compromised costs.
Recorded Webinar "EV Supply Chain Solutions"
GlobalAutoIndustry.com's latest OnDemand Seminar (webinar), "EV Supply Chain Solutions"
To watch Recorded Webinar, visit here.
Video Demo: Supply Chain Command Center
Supply Chain Command Center: A solution to help organizations have visibility across the entirety of their value chain.
For additional videos, including Material Cost Reduction and Multi-tier Collaboration, please see below.
Customer praises Tada value
One current customer appreciates the value of the Tada methodology:
"While many of our competitors couldn't keep up with Covid demand gyrations, thanks to Tada's software, we actually met our demand and kept our factories running and delivered on our customer commitments"
We at Tada grew from deep expertise in supply chain, operations, cost management and procurement. Our Automotive DNA has been honed by over 25 years of experience in various sectors of the industry, from heavy commercial vehicles, car manufacturers to critical component suppliers including electronic components. Our system operates mission critical solutions for some of the most complex F100 supply chains in automotive and heavy industrial manufacturing, healthcare and insurance.
Solutions for OEMs and Suppliers
With product demand changes (pre, during and post COVID -19), automotive manufacturers and suppliers both need a system to address supply chain constraints, visibility, collaboration across multiple levels of suppliers and assurance of supply from the globally sourced supply base. OEMs and Suppliers have been using the following solutions from Tada to gain market share, operate profitably, effectively plan for risks and introduce new designs and upgrades on an aggressive timeline
Tada's – Multi-Tier application suite helps clients to collaborate and communicate across all levels of the supply chain ecosystem to achieve common goals and meet targets.
Tada's – Supplier Readiness Application (suite) provides the risk mitigation to the supply chain needed in a highly constrained environment.
Tada's – Material Availability Methodology and application reduces line down situations due to part shortages. The built-in logic ensures schedule adherence at the factories to satisfy customer commitments.
Register for Live Online Demo


To learn more about how Tada's platform can help your company, register here for a live online demo.
How does Tada work?
TADA is built on a patented Digital Duplicate Technology that builds a business DNA and solves supply chain problems by connecting data silos within their own and their partner enterprises to create a unique data fabric and persona-based command center that delivers real-time visibility, orchestration and collaboration across the entire enterprise ecosystem. The best part is that Tada can be deployed in days rather than months.
Here are some highlights of the platform:
Connect to any set of data sources asynchronously to provide insightful analytics and management – Tada connects to over 150 data sources
Sustain gains made via change management, lean execution and operational excellence initiatives, by way of digital governance, cadence and monitoring
Collaborate across multiple levels of suppliers to effectively achieve common goals, expectations and resolve challenges
Provide a single source of truth to the entire eco-system by way of single data portal and intuitive visual management
Maximize the efforts of planners, supervisors, procurement personnel and supply chain personnel by eliminating manual data uploads and interventions
Relevant Case Studies
Demand Navigator – download here
Demand Bullwhip effect eliminated by TADA at a F100 company.
Supplier Readiness – download here
F100 manufacturer proactively mitigates supplier risks by utilizing TADA.
Material Availability – download here
Tada reduces parts misses by 40% at a F100 corporation.
Digital Command Center – download here
F100 corporation gains control of its supply base by utilizing Tada.
Multi-Tier – download here
How a F1000 vehicle manufacturer used Tada to solve its material availability issues.
Video Demos
Material Cost Reduction
An AI driven network technology is helping companies accelerate their direct materials cost reduction.
Multi-tier Collaboration
Helping your supply chain become disruption-proof, and understanding risk by increasing visibility across the entirety of your value chain.
Thought Leadership: Audio Interview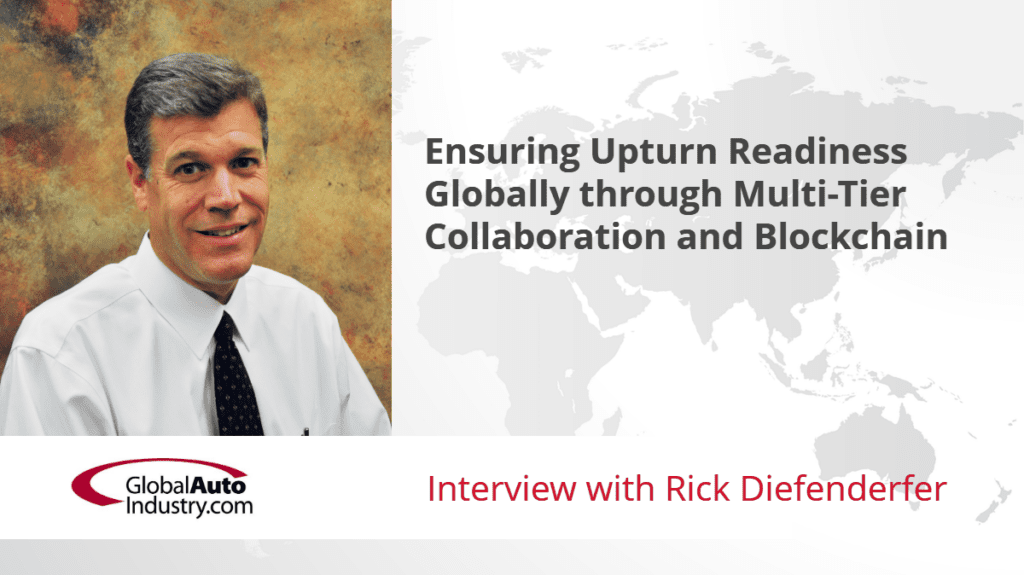 This Interview "Ensuring Upturn Readiness Globally through Multi-Tier Collaboration and Blockchain" features Rick Diefenderfer, Partner with CGN Global since 2012, leading the Supply Chain and Business Transformation Group. His 35 years experience includes executive positions with FedEx Ground, FedEx Logistics, and Caterpillar, managing global logistics solution teams and business development professionals. He is an overall global supply chain expert. Listen here.
Questions? Contact us here