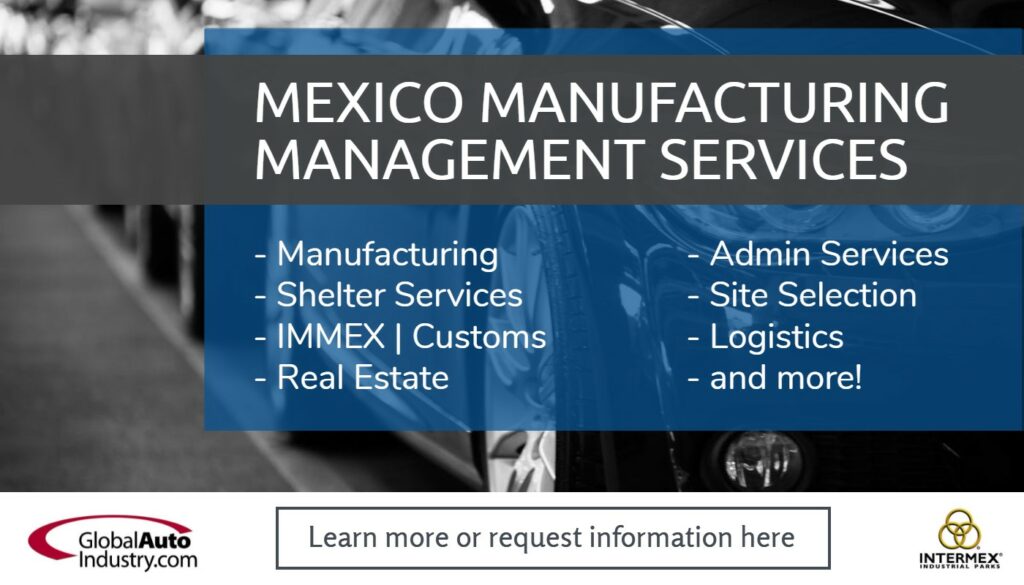 Intermex and GlobalAutoIndustry.com help you succeed in Mexico!
Intermex and GlobalAutoIndustry.com have teamed up to help automotive suppliers seeking manufacturing operations or looking for industrial space. Want to learn more about operating in Mexico? Contact us below.
Learn more about "Manufacturing Management Services"
Recorded Webinar: "Moving Your Manufacturing from China to Mexico" – visit here
Recorded Webinar: "Lessons Learned: CEO Insights for Manufacturing in Mexico" – visit here
Audio Interviews: 14 Interviews on "Doing Business in Mexico" – visit here
Report: "Doing Business in Mexico" – download here
Manufacturing in Mexico – Shelter Services Program is a 'turn-key' manufacturing solution, see info below
Industrial Parks and Commercial Real Estate in Mexico – visit here
Intermex Introduction Video for Automotive Suppliers – see below
About Intermex – see below
Contact us here – see contact info request form below
Want to learn more? Request a free Manufacturing Cost Model Quote.
REQUEST A COST MODEL.
INTERMEX will prepare upon request, a complete cost model for your operation in Mexico — at no charge! The cost model includes labor, utilities and logistics costs. Contact John Horrell – JHorrell@GlobalAutoIndustry.com.
Thought Leadership by INTERMEX
"Mexico's Customs Challenges: What Suppliers Must Know About the IMMEX Program"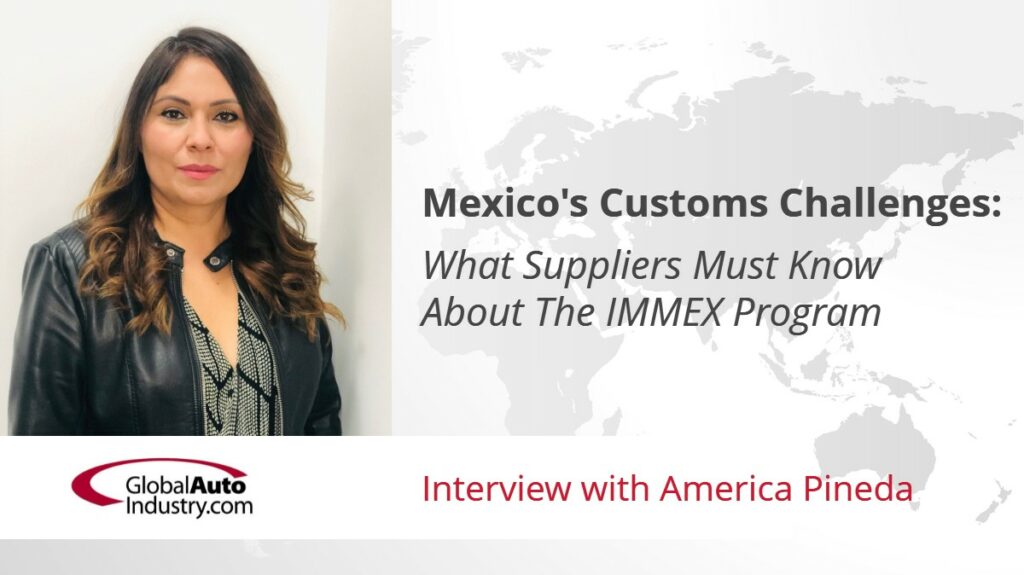 This Interview features America Pineda, Global Trade Compliance Manager at Intermex Industrial Parks. She has 18 years of experience in customs compliance, and was director of the Foreign Trade Committee of the National Council of the Maquiladora and Manufacturing Export Industry Chihuahua (INDEX) for a two-year period. She is currently the Shelter IMMEX Administrator for 14 different customers in the automotive, electrical and electronical, plastics and related sectors.
Listen here.
---
"Key Manufacturing Costs in Mexico for Automotive Suppliers"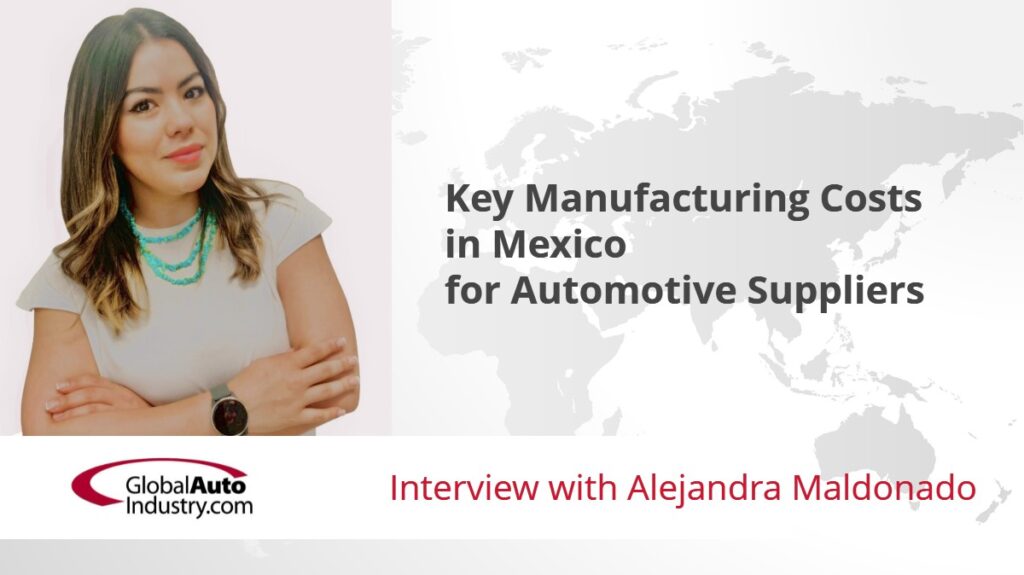 This Interview features Alejandra Maldonado. Ms. Maldonado is a Project Administrator at Intermex, one of the leading Industrial Real Estate developers and Administrative Services for Maquiladoras. Alejandra has facilitated the soft-landing experience for many foreign companies stablishing operations in Mexico. She represents Intermex at the Mexican Manufacturing Association & Shelter Committee, as well as Chihuahua's aerospace cluster.
Listen here.
---
"Mexico's Strategic Manufacturing Trends: The Shelter Competitive Advantage"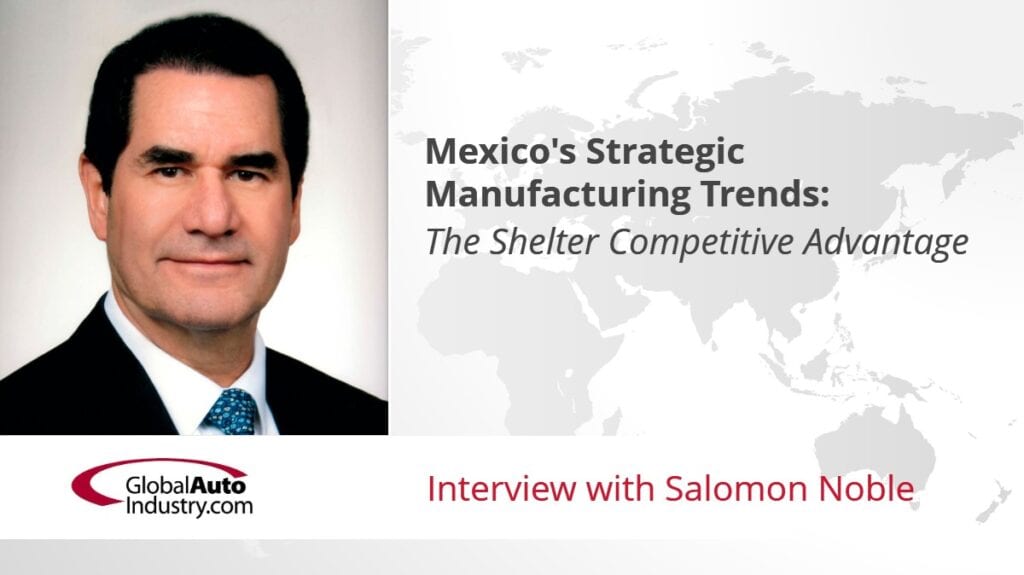 This Interview features Salomon Noble, CEO for Mexico-based Intermex Industrial Parks. Salomon is an expert in the Mexican Manufacturing and Maquiladora Industry (IMMEX / "Twin Plants"), with more than three decades of experience in advanced manufacturing operations for the automotive and aerospace sectors and all aspects of the Industrial real estate life cycle. Listen here.
---
Video: Introduction to Intermex for automotive suppliers
---
Shelter Services for automotive suppliers
A wide range of automotive and related products are manufactured by our shelter customers, for example:
Automotive plastic parts
Automatic transmissions
Electric motors
Engine testing
Metal Stamping
Plastic injection molding
Wire harnesses
Related products include: airplane parts, appliances, cellular and radio repair, helicopter parts, iron doors, and photographic paper.
Shelter Program: Best competencies combination!
The best competencies combination is a simple process where the client is in charge of the operative tasks while Intermex gives administrative services and support.
CUSTOMER provides: Manufacturing | Quality | Technology
INTERMEX provides: Administrative functions | Legal compliance | Permits
Advantages of Intermex Shelter
RISK MINIMIZATION: No incorporation needed | Mexican Income Tax and IVA (VAT) | abatement for initial 4 years
MAXIMIZE YOUR SAVINGS: Economies of scale | Lower administrative cost
MINIMIZE YOUR OPERATION'S OBSTACLES: Guaranteed legal compliance through our soft-landing strategy | Rapid deployment and start up of operations in only 9 weeks!
CUSTOMER'S TOTAL CONTROL OVER PRODUCTION & QUALITY: Focus on technology transfer | We handle the non-strategic support services
Manufacturing in Mexico
MEXICO IS THE BEST PLACE FOR YOUR MANUFACTURING
Take advantage of our information and select the location best fit for your operations
Concept
With several of the largest industrial markets on the continent, selecting the right city in Mexico could be a bit of a challenge. Intermex offers additional value to its clients by providing a city selection analysis. This service helps foreign or Mexican automotive suppliers start operations in the most suitable city, according to the specific needs and requirements. This includes the following comparative analysis:
Shelter: Mantain presence in the major industrial markets in Mexico. Our database comes from real-life operations. We base information regarding salaries (including benefits), utilities and transportation costs from actual experience in addition to gathering latest information from comparable markets.

Logistics: Constantly moves products to and from the main ports of entry to Mexico for our shelter and logistics clients. We know that supply chain management costs strongly influence the "location-location-location" decision.

Real Estate: We lease facilities in a wide range of industrial cities throughout Mexico.
Over 40 years providing services to more than 200 global companies
Real Estate
Shelter
Site Selection
Logistics
Intermex at a glance
About us
Intermex has been part of the success of over 200 multi-national companies manufacturing in Mexico. The process of combining foreign capital and technology with Mexican labor, industrial facilities, and our community, has been the core value of Intermex for over 40 years.

Our integrity and commitment to service are reflected in the structure of our Company and the different solutions we offer. Let INTERMEX provide the competitive edge for success and profitability of your operations in Mexico.
20M+ square feet of developed class-A industrial facilities
Full access to strategic industrial and logistic markets throughout Mexico
200+ customers successfully established in Mexico
Find an available property or join the Shelter program
Mexico has a dynamic logistics system, competitive operating costs and skilled human capital.
Cost reduction made easy.
Questions? Contact us here