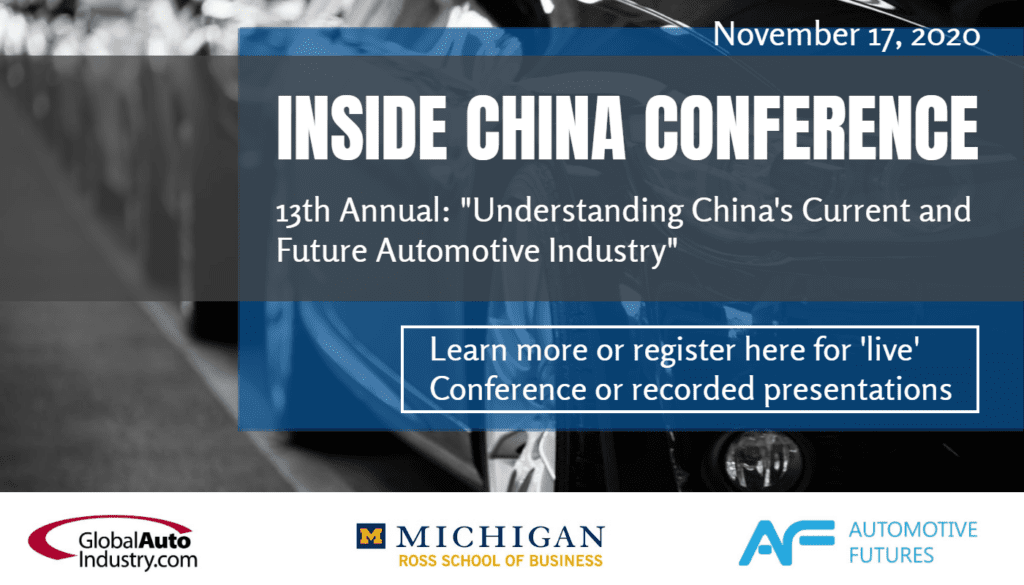 ONLINE LIVE-STREAMED EVENT (and recorded)
*** Because of the coronavirus, this conference will be livestreamed AND recorded, with links emailed to registered participants ***
13th Annual Inside China Conference: "Understanding China's Current and Future Automotive Industry"
November 17, 2020 – 9:00am to 1:30pm (EST / Detroit time)
$200 registration fee to access 'live' Virtual Conference (online).
Can not attend 'live' event? Register and get access to recorded sessions!
Quantity discounts available (see Register Now page)
MEET THE SPEAKERS (see information below)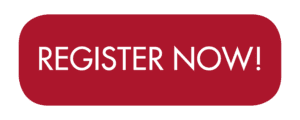 REGISTER HERE TO ATTEND 'LIVE' or RECORDED STREAMED EVENT
China Automotive Policy Expert and Autonomous Vehicle Company Join DiDi and Argonne Emissions Researcher To Discuss China's Current and Future Auto Industry
The largest automotive market in the world is such a unique market that it demands that we continue to examine both its current and future trends from a variety of perspectives:
Our 13th annual Inside China Automotive Conference features insights by manufacturers, suppliers, consultants, and UM experts on the current and future prospects for the automotive industry in China. Everything this year is filtered through the global pandemic. China's auto market is different from the rest of the world this year because it dealt with the pandemic faster and more aggressively than most other countries; hence, their year-end sales totals will be lower than the previous year, but not as low as most western countries.
As always, we try to provide a variety of perspectives about China's auto industry, looking at the economic situation, auto sales and production, automotive policy, labor and trade issues, and company strategies. This year will have speakers talking about the environment related to electric vehicles, ride sharing strategies, New Energy Vehicle (NEV) policies and company responses, and autonomous vehicle plans. As with past conferences, we will also focus on future industry trends in market structure and the roles of both the domestic and foreign manufacturers and suppliers in the industry.
Some of the key questions we will address include:
Q: Can China continue to grow while still dealing with congestion and pollution?
Q: What effects has the trade war had on the auto industry?
Q: What incentives did the Central Government provide the industry and consumers during the pandemic?
Q: Can China capitalize on the increased need for EVs in the EU?
Q: How has ride sharing affected the auto industry?
Q: Are domestic joint venture manufacturers ready to stand on their own with their own brands?
Confirmed Speakers Include:
Bruce Belzowski, Managing Director, Automotive Futures will moderate the conference and provide an overview a longitudinal view of Chinese and foreign manufacturer sales and production. He will also provide an update on his groups work on their Global EV Strategies project.
Hongtu Zhu chairs the Statistics and Decision Sciences and Feature Engineering with AI departments for DiDi. He will provide his insight into some of the complex challenges facing DiDi that they are trying to solve using statistics and AI.
Michael Wang is Distinguished Fellow and director of the Systems Assessment Center, Energy Systems Division at Argonne National Laboratory. He will discuss his group's research on the effects of electric vehicles in China's province by province emissions.
Chen Fu, Director of Product Management at Pony.ai the autonomous vehicle company based in Silicon Valley as well as Guangzhou and Beijing, will discuss his company's work in China and where he see the autonomous vehicle industry headed.
Shanjun Li, Professor of Applied Economics and Policy, and co-Director of the Cornell Institute for China Economic Research at Cornell University, will talk about his extensive work on China's automotive industry policies including emissions, vehicle lotteries, knowledge capture, vehicle scrappage, and EVs. You can see his research – visit here.
Come back often as speakers are added here…
Other manufacturers, suppliers, government representatives, and consultants have been invited
Meet the Speakers
We will again offer our Meet the Speakers program for the upcoming Inside China conference. We will begin the signup process a couple of weeks before the conference.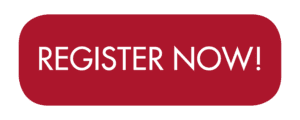 REGISTER HERE TO ATTEND 'LIVE' or RECORDED STREAMED EVENT
Conference Sponsorship
Companies or groups interested in sponsoring this conference, please contact Bruce Belzowski at bbl@umich.edu or (+1) 734-936-2704.
Automotive Conference Sponsors
Automotive Futures Affiliates
Aisin Technical Center
Argonne National Labs
Bosch Corporation
Denso Corporation
Ford Motor Company
GlobalAutoIndustry.com
Means Industries
Valeo North America, Inc.
University of Michigan Ross Business School: Corporate Education
Questions? Contact us here